Welcome To Our Litter Info Page
*Please Read Below For All The Details In Welcoming A Kriscross Puppy Into Your Life.*
At Kriscross We Guarantee that we have done our best to ensure that every litter is planned using Thoroughly Health Tested Parents and are raised in a environment that will give them the very best start in Life.
We Place a lot of Information on Site with Photo's, Health Test Results & Bloodlines with every Litter Born.
To Own a Quality Puppy , Quality Care must be Provided, this is Our Number 1 Priority.
!! WE DO NOT TAKE DEPOSITS ON NEW BORN PUPPIES !!
Our puppies leave our care between 9 -10 weeks.

We would appreciate in your initial email
if you could include details about your Family situation and experience with the Boxer Breed.
Pet Home Puppies: Limited Registration
(Not for Breeding or showing)
Main Registration Puppies : Contact us for further info...

What We Offer In Regards To Our Puppies Is As Follows:
All Pet Home puppies are placed on the Limited Register (Not for Breeding or export)
Desexing agreed by new families before leaving our care.
We Do Not support back yard breeding
Main Registered puppies you can contact us for further details.
White puppies share the same pedigree as their coloured litter mates and have the same chance of being free from any Health defects & come with (ANKC) Limited Register Papers. (Spay/neuter contract)
Please refer to our White Boxer Info on site.
******************
If you are interested in one of our Boxer Puppies we encourage you to come meet us & our dogs.
Our puppies have the following before leaving our care:
... Pedigree Papers Limited or Main Registration
... Wormed with Interceptor Spectrum which includes Heartworm at 2 wks, 4wks & 8 wks.
... Vet checked, vaccinated, microchipped.
... We supply Premium puppy food ADVANCE Puppy Plus Growth Chicken.
... A folder containing our diet guide and puppies history.
... Toys, blanket,collar. We send update photo's from Birth to 9 weeks.
... We ensure all new families are prepared for their new arrival.
The photo below is a excellent example of a Kriscross Family taking our advice and being fully prepared.
Having a puppy pen fully set up in the bedroom for night time.
Well Done Debb.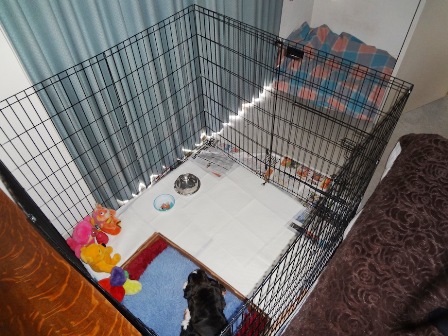 We do not encourage puppies to be placed in cold laundry area's at night.
...We encourage enrollment into a puppy school & joining a obedience club to all our pet home puppies.
.. All Kriscross Puppies have our life time support and we can be contacted at anytime. If circumstances change and a Kriscross dog needs rehoming we must be contacted and given alittle time to ensure a suitable new home is found.

As the Boxer is a active breed please ensure you have the time to spend in training and exercise.
Boxers are a family dog and do best enjoying the comforts of the home being allowed inside. Our dogs do not live a kenneled life they are very much part of our family and our home is shared with our dogs.
Our puppies are raised in a safe clean enviroment, spending their first few weeks in our indoor puppy area
giving mother & puppies our 100% attention.
Our whelping area has a sliding door for easy access to the outside puppy area. So the puppies can be moved in and out with ease.
From about 4 weeks our puppies are introduced to our outdoor puppy pen for play times during the day. During this time we lay artificial turf for the puppies. This area has lots of toys and lets the puppies experience the different sights and smells and best of all seeing what the big dogs are up to. This area is great for visiting families to come and join in at play time.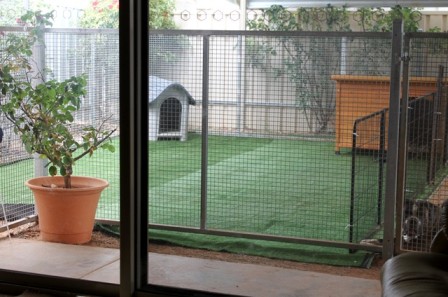 Enjoying the outdoor puppy pen.

At Kriscross
We use and Recommend the following: