Presents
Brizegar Rustic Prince
Sire: Aust Grand CH. NZ GRD CH. Valeska Lock Up Ya Daughters (NZ)
Dam: Brizegar Coprice
Whelped: April 2004 - April 2014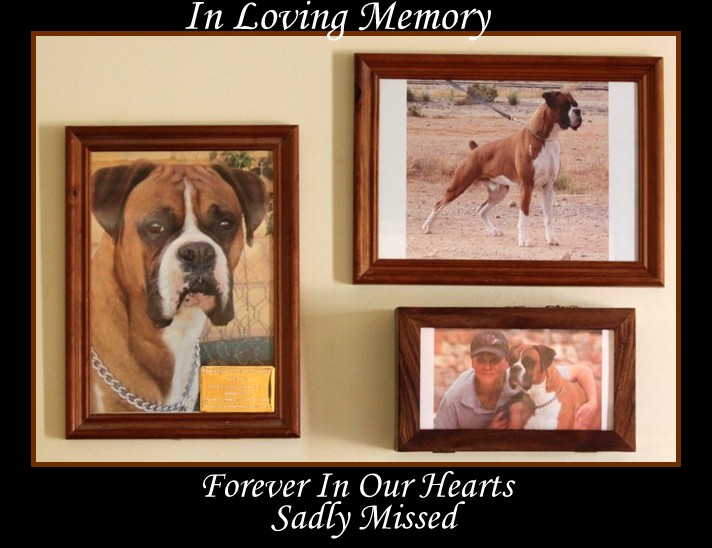 Rest In Peace Our Gorgeous Boy " Tyson'.
April 2004 - April 2014
Your passing was so sudden and unexpected. You passed away in my arms and I thank you for allowing me to be with you.
Our beautiful boy loved life and was very much a loved Family Member.
He adored being around the puppies at weaning and was a great mate to his canine companions.
Thank You for your unconditional love and companionship.
Time will heal our loss but the life time of beautiful memories will last forever.
You can see more of Tyson in Our Photo Albums.
Health Tests
Heart Tested Clear : (Cardiac Specialist)
Thyroid : Normal Range
24hr Holter Tested 2012 & 2013
Pedigree "Tyson"

Parents
GrandParents
GreatGrandParents
SIRE

Aust GRD.CH. N.Z GRD CH. Valeska Lock Up Ya Daughters (N.Z)

Lock Stockn Barrel Of Burnden (U.K)

Burnden Calling The Shots (UK)
Jade Dee Sparks (UK)
N.Z CH. Valeska Going Scot Free (Imp N.Z)
N.Z CH Ozstock Sumo Wrestler
N.Z CH Valeska Going For Gold (NZ)

DAM

Brizegar Coprice

Aust. Ch. Cazshimik Fire And Ice
Phoenix Royal Dynasty
Bridair Stefani
Northridge Coppa Angel
Northridge Simply Red
Northridge Fire Glow