It Is With Great Sadness That We Announce The Passing Of
"George De La Finca Sapho" Imp Spain
"We were truly honoured to have you as part of our family"
"For Ever In Our Hearts"
R.I.P Gorgeous Boy Forever Loved And Sadly Missed XXXXX
Proudly Presents
George De La Finca Sapho (Imp SPA)
Dob: 21/10/2007 - 11.12.2015
Sire: Esteban Van Sapho's Hoeve (BEL) Dam: Dempsey Van Sapho's Hoeve (BEL)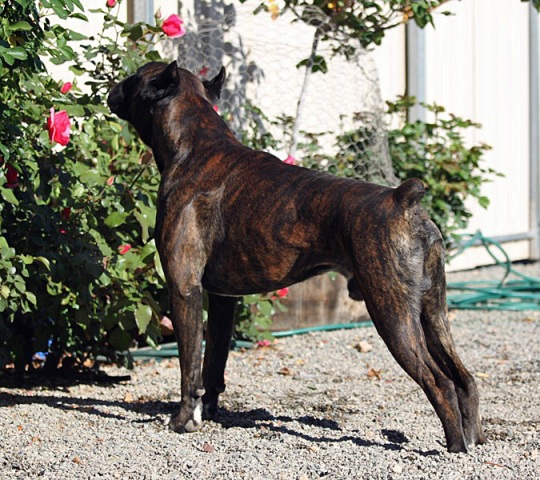 George dlf Sapho is very special to us and we are truely honoured to have this beautiful boy in our care. George is a excellent representation of his bloodline coming from carefully selective combinations thru the generations.
He is a exceptionally well bred dog being Strong boned, displaying a excellent head type with a nice boxer expression.
His temperament is outstanding and we are pleased that his progency are also showing the same. We are very pleased that at this present time all offspring that have been Tested for (ARVC ) have come back with Negative Results.
This boy has a real special presence about him he is my shadow and my very special boy.
George has Sired 6 litters, 1 in Europe & 5 in Australia with pleasing results.
George has been thoroughly health tested.
All Offspring from George that we have retained at kriscross have been Heart Certified Clear by a Specialist with Excellent Results.
We look forward to seeing more of George's progeny in the future.
We have Frozen Semen Stored which is not for sale.
Using the Camelot Farm's Semen Preservation System.
Acknowledgments : A heartfelt thank you to Ingmar & Vicky for your friendship & support and entrusting George into our care, we are truely honoured to have this beautiful boy in our lives.
Achievements: As George is ear cropped he is unable to be shown in Australia
HEALTH TEST RESULTS
Heart Tested Belgium: 0/6
Heart Tested Australia: 0/6
Thyroid Tested: Normal Range
Hip Scored: Below the Breed Average
(ARVC) Gene Tested U.S.A = Negative
(Boxer Cardiomyopathy)
(DM) Gene Tested U.S.A = N/N Normal
(Degenerative Myelopathy)
24hr Holter Tests with Full Cardiolist Reports:
(Dr Carl D Sammarco, BVSc, MRCVS Diplomate ACVIM (Cardiology)
Less then 50 (PVCs)/24hrs is Considered Normal.
Holter Completed with Excellent Results
Feb 2011
April 2012
March 2013
March 2015
| | | |
| --- | --- | --- |
| 24hr Holter Testing: 2011 | 24hr Holter Testing: 2012 | 24hr Holter Testing: 2013 |
" No known Cardiomyopathy or Hip problems in his pedigree "
Pedigree: George de La Finca Sapho (Imp Spain)

Parents

GrandParents

GreatGrandParents

G.GreatGrandparents

SIRE

Esteban Van Sapho's Hoeve (Belgium)

Int CH. Boreas Di Casa Diocletiano (Italy)

Thomas Degli Scrovegni (IT)

Multi CH. Caruso di Soragna

Annais degi Scrovegni

Nepal Degli Scrovegni (Italy)

Noe degi Scrovegni
Amica V. Majer Box

Crazy Van Sapho's Hoeve (Belgium)

Uram Van Sapho's Hoeve (Belgium)

CH.Roy Van Sapho's Hoeve

Sacha Van Sapho's Hoeve

Vaya's Box Zigyn (Belgium)

Atibox Sieger, Int Ch, Multi CH. Franklin- Django Van de Matenhof

Vaya Von Infadar

DAM

Dempsey Van Sapho's Hoeve (Belgium)

World Atibox CH 2006

Int CH. Brahms Van Sapho's Hoeve (Belgium)

Zippo Del Trinitad (Belgium)

Int CH. Nick del Nettuno

Xarline del Trinitad

Yessika Van Sapho's Hoeve (Belgium)

Atibox Sieger, Int Ch, Multi CH. Franklin-Django Van de Matenhof

Ulana Van Sapho's Hoeve

Deni De Onaru (Spain)

SPA.CH Benito DEl Colle Dell'Infinito (Spain)

CH. Udo del Colle dell'Infinito

CH. Grazia del Colle dell'Infinito

Gilda Villa Astur (Spain)

Robie VD Boksdoorn
Aro Villa Astur