Presents
"Infinity"
Kriscross Infa Red
Sire: George de La Finca Sapho (Imp Spain) Dam: Infanta de La Finca Sapho (Imp Spain)
Whelped: 31.12.2012
Health Test Results Below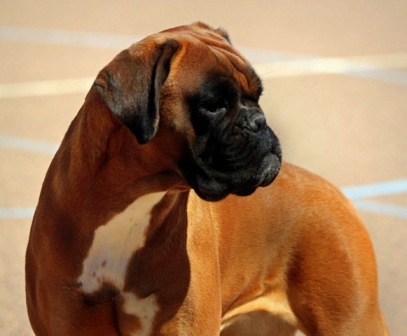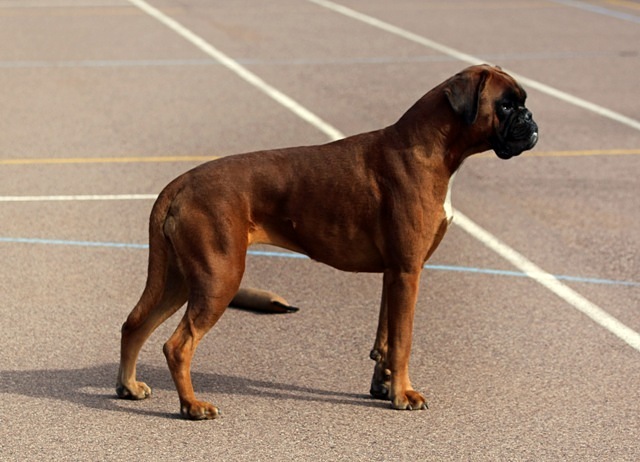 This delightful girl has come from a much anticipated litter that was many years in the planning.
Both her Sire & Dam we Imported from Spain and are very special to us at Kriscross.
We must Thank Johan Sioen & Mariette Poppe from the "Finca Sapho Kennel' Spain and Ingmar Sioen & Vicky Van Isacker
"Sapho's Hoeve Kennel' Belgium.
This could not have happened without their support.
From a early age her attitude and temperament was really shining thru along with her lovely rich red coat.
You can view up date photo's of Infinity in her Photo Album Below.
Health Test Results
Heart Tested: 0/6 (Auscultation & Echo Doppler)
Specialist Cardiologist - Richard Woolley BVetMed DipECVIM-CA (cardiology)MRCVS
(ARVC) Negative by parentage
(DM) Gene Tested USA : A/N
24hr Holter Tests with Full Report:
Dr Carl D Sammarco, BVSc, MRCVS Diplomate ACVIM (Cardiology)
Less then 50 (PVCs)/24hrs is Considered Normal.
Holter Completed
September 2016
Pedigree: Kriscross Infa Red

Parents

GrandParents

GreatGrandParents

G.GreatGrandparents

SIRE

George de La Finca Sapho

(Imp Spain)

Esteban Van Sapho's Hoeve (Belgium)

In CH. Boreas Di Casa Diocletiano (Italy)

Thomas Degli Scrovegni (IT)

Nepal Degli Scrovegni (Italy)

Crazy Van Sapho's Hoeve (Belgium)

Uram Van Sapho's Hoeve (Belgium)

Vaya's Box Zigyn (Belgium)

Dempsey Van Sapho's Hoeve (Belgium)

Int CH Atibox World CH

Brahms Van Sapho's Hoeve (Belgium)

Zippo Del Trinitad (Belgium)

Yessika Van Sapho's Hoeve (Belgium)

Deni De Onaru (Spain)

SPA.CH Benito Del Colle Dell'Infinito (Spain)

Gilda Villa Astur (Spain)

DAM

Infanta de La Finca Sapho

(Imp Spain)

Zippo Del Trinitad (Belgium)

International Ch , Spain Ch.

Teck del Colle dell'Infinito

Fun van Victoria's Stardust

Xarline del Trinitad

World Ch.

Vasko vd Hazenberg

Rahni del Trinitad

Chicci Van Sapho's Hoeve

Ch. Maiky du Mont de la Renardiere

Igor de la Vallee du Thin
Jade du Mont de la Renardiere

Perla del Nettuno

World Atibox Ch. & Multi Ch. Int Ch.

Magnum di Massumatico

Vurian Van Sapho's Hoeve