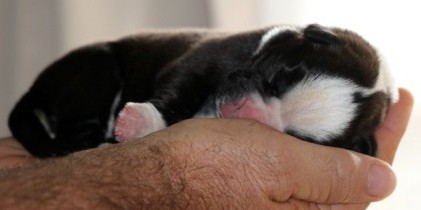 Kennel & Litter News 2012-2013

*We are pleased to Announce the Arrival on New Years Eve*
7 Beautiful Puppies
Sire: George de La Finca Sapho (Imp Spain)
Dam: Infanta de La Finca Sapho (Imp Spain)
We are delighted to announce the Union between these two beautiful dogs and the safe arrival of 7 lovely strong puppies.
For us this has been many years in the planning.
This is a line breeding to the Magnificent Zippo Del Trinitad
(Still going strong at the Finca Kennel in Spain)
1 x Red Female
1 x White female (Brindle eye patch)
1 x Reverse Brindle/White Male
1 x Brindle Male
1 x White Male (Reverse Brindle eye patch)1 x Brindle/White Male
You can follow the progress of this beautiful litter in the Puppy Album below
(4 wks to 8 wks)
(Birth to 4 wks)

You can view the Sire & Dam and Litter Pedigree Below and there is alot more information on "Our Litter Info Page "
Incorporating strong European lines, the style of boxer we very much like.
All puppies have long tails there is No Bobtail lines in this combination.
You can view alot more photo's of these two beautiful dogs on site.
Health Test Info Both Sire & Dam :
(ARVC) Gene Tested : Negative
Sire: (DM) Gene Tested : Negative
Dam: (DM) Gene Tested: A/N
Sire :Thyroid Tested: Normal
Dam: Thyroid Tested: Normal
24 hr Holter Tested 2011 /2012: Excellent Results (Cardiospecialist)
SIRE : Hip Scored below the Breed average
Both Displaying Excellent Calm Temperaments
Both Sire & Dam completed 24 hr Holter Test for 2012 prior to mating with Excellent results.
Puppies are (ARVC): Negative
Litter Pedigree
Puppies Pedigree:

Parents

GrandParents

GreatGrandParents

G.GreatGrandparents

SIRE

George de La Finca Sapho

(Imp Spain)

Esteban Van Sapho's Hoeve (Belgium)

In CH. Boreas Di Casa Diocletiano (Italy)

Thomas Degli Scrovegni (IT)

Nepal Degli Scrovegni (Italy)

Crazy Van Sapho's Hoeve (Belgium)

Uram Van Sapho's Hoeve (Belgium)

Vaya's Box Zigyn (Belgium)

Dempsey Van Sapho's Hoeve (Belgium)

Int CH Atibox World CH

Brahms Van Sapho's Hoeve (Belgium)

Zippo Del Trinitad (Belgium)

Yessika Van Sapho's Hoeve (Belgium)

Deni De Onaru (Spain)

SPA.CH Benito Del Colle Dell'Infinito (Spain)

Gilda Villa Astur (Spain)

DAM

Infanta de La Finca Sapho

(Imp Spain)

Zippo Del Trinitad (Belgium)

International Ch , Spain Ch.

Teck del Colle dell'Infinito

Fun van Victoria's Stardust

Xarline del Trinitad

World Ch.

Vasko vd Hazenberg

Rahni del Trinitad

Chicci Van Sapho's Hoeve

Ch. Maiky du Mont de la Renardiere

Igor de la Vallee du Thin
Jade du Mont de la Renardiere

Perla del Nettuno

World Atibox Ch. & Multi Ch. Int Ch.

Magnum di Massumatico

Vurian Van Sapho's Hoeve