Presents
Kriscross Miss Calandria
"Calli "

DOB: 12 May 2009
Sire: George de La Finca Sapho (Imp Spain) Dam: Kriscross Ima Q Tee (HTO)


Health Tests: see Below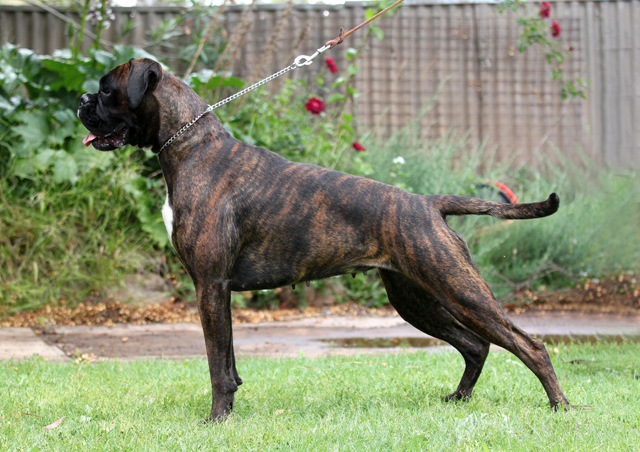 "Calli " 3 yrs
Calli is a very stylish little girl with a very even calm temperament.
A beautiful daughter by our Import
George De La Finca Sapho (Imp Spain)
X
Kriscross Ima Q Tee " Sophie '.
We have been watching this girl develope and we are very happy with how she is progressing. Calli has been entrusted into the care of Sarah Wiles and family who we have known for many years and have had Boxers for over 20 + yrs.
Calli is living not far from us and we are able to follow her progress and regularly see her. She is a carbon copy in structure & Health Test results to her full sister "Kriscross QT Pretty Impressed" who is also displayed on site.
Her temperament is outstanding with humans, other dogs and any animal that crosses her path.
Calli passed her health tests with excellent results.
On the 1st of November 2012 Calli whelped her first litter to a lovely Italian Import "Isacco Di Soragna". You can view these lovely puppies in "Our Previous litter" section.
From this mating we have retained a lovely daughter "Kriscross Di Anna".
Health Test Results:
Auscultation: 0/6
(ARVC) Gene Test USA : Negative
(DM) Gene Tested USA : N/N Clear
Thyroid Normal Range
Full Blood Panel : Normal
24hr Holter Test with Full Report:
(Dr Carl D Sammarco, BVSc, MRCVS Diplomate ACVIM (Cardiology)
Less then 50 (PVCs)/24hrs is Considered Normal.
April 2012
April 2012. 24hr Holter Testing
Pedigree: Kriscross Miss Calandria

Parents
GrandParents
GreatGrandParents
G.GreatGrandparents
SIRE

George de La Finca Sapho (Imp SPA)

Esteban Van Sapho's Hoeve (BEL)

Int Ch. Boreas Di Casa Diocletiano

(IT)

Thomas Degli Scrovegni (Italy)
Nepal Degli Scrovegni (Italy)

Crazy Van Sapho's Hoeve

(BEL)

Uram Van Sapho's Hoeve (Belgium)
Vaya's Box Zigyn (Belgium)
Dempsey Van Sapho's Hoeve (BEL)

Int Ch. World Atibox Ch. 2006

Brahms Van Sapho's Hoeve

(Belgium)

Zippo de Trinitad
Yessika Van Sapho's Hoeve

Deni De Onaru

(Spain)

Int CH. Benito del Colle dell'Infinito
Gilda Villa Astur

DAM

Kriscross Ima Q Tee (HTO)

Brizegar Rustic Prince (HTO)

Aust GRD Ch. NZ GRD CH

Valeska lock Up Ya Daughters

(NZ)

Lock Stockn Barrel of Burnden

(UK)

NZ CH. Valeska Going Scot Free (Imp NZ)
Brizegar Coprice
Aust CH. Cazshimik Fire and Ice
Northridge Coppa Angel

Riggamo Shez A Beauty (HTO)

Northridge Lover Boy
Aust CH. Cazshimik Fire and Ice
Northridge Nawty N Nice
Ayamonte Regal Beauty
Aust CH. Thasrite Smart Money (AI)
Ayamonte Queens A Lady