Presents
"Maddy"
Kriscross La Reina (Bobtail)
Sire: George de La Finca Sapho (Imp Spain) Dam: Looje Sargent Peppers (Bobtail)

Whelped: 23.1.2012
Health Test Info Below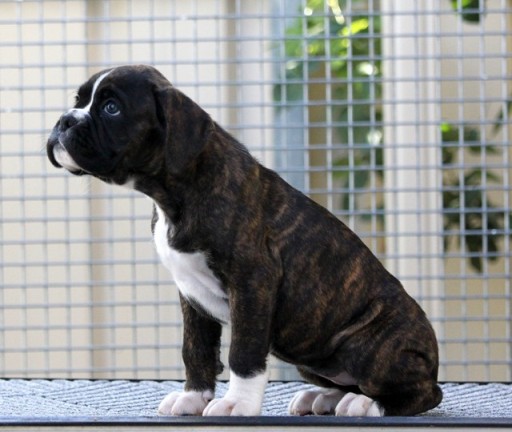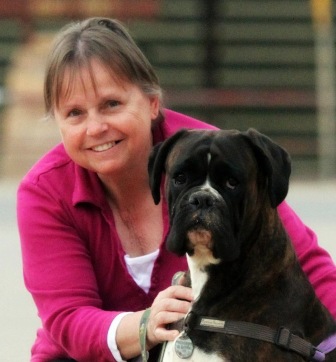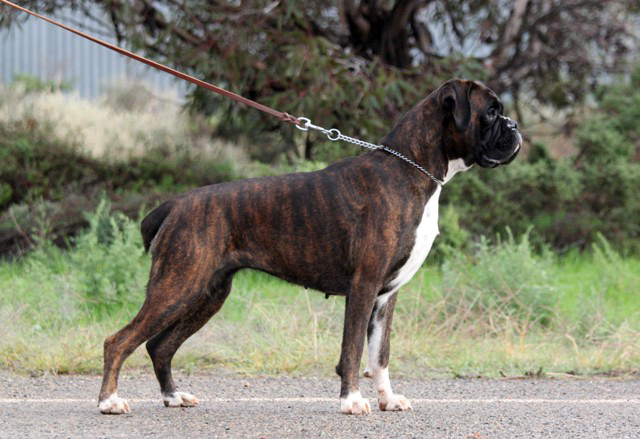 This beautiful girl is residing at my parents in Hardwicke Bay SA.
It was 42 yrs ago that my parents first introduced a boxer into the family.
It is with great pleasure that now we can return the favour and present back to my parents this delightful girl.
Maddy is living the life of luxury, with the beach as her playground and with my parents now retired they have a lot of time to spend with her.
Maddy's temperament is outstanding, with other dogs, elderly people, young children.
We really enjoy seeing her regularly and love it when she comes to stay.
With Maddy's beautiful gentle nature she has a real fan club at Hardwicke Bay.
She has a very good life playing and exploring the beach and running for miles along the most beautiful beach line SA has to offer.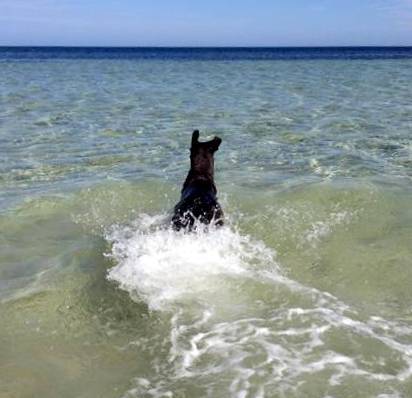 Maddy has Excellent Results with her Health Tests.
She is the next generation for her lovely Dam Looje Sargent Pepper
by our Beautiful Import
George de La Finca Sapho (Spain)
Health Test Results
Heart Tested Ausculation : 0/6
(Specialist - Dr David Davies BSc BVMS (Hons) FACVSc)
(ARVC) Gene Test : Positive Het (1 normal gene & 1 mutant gene)
(DM) Gene Tested USA : N/N Clear
Thyroid from 12 mths
24hr Holter Tests with Full Report:
Dr Carl D Sammarco, BVSc, MRCVS Diplomate ACVIM (Cardiology)
Less then 50 (PVCs)/24hrs is Considered Normal.
Holter Completed
May 2014
Pedigree: Kriscross La Reina (Bobtail)

Parents

GrandParents

GreatGrandParents

G.GreatGrandparents

SIRE

George de La Finca Sapho

(Imp Spain)

Esteban Van Sapho's Hoeve (Belgium)

In CH. Boreas Di Casa Diocletiano (Italy)

Thomas Degli Scrovegni (Italy)

Nepal Degli Scrovegni (Italy)

Crazy Van Sapho's Hoeve (Belgium)

Uram Van Sapho's Hoeve (Belgium)

Vaya's Box Zigyn (Belgium)

Dempsey Van Sapho's Hoeve (Belgium)

Int CH Atibox World CH

Brahms Van Sapho's Hoeve (Belgium)

Zippo Del Trinitad (Belgium)

Yessika Van Sapho's Hoeve (Belgium)

Deni De Onaru (Spain)

SPA CH. Benito Del colle Dell'Infinito (Spain)

Gilda Villa Astur (Spain)

DAM

Looje Sargent Peppers

(Bobtail)

Boxberry Earth WindNFire

CH Boxberry Hez Super (HTO)

BIS & RUBIS CH & NZ CH Valeska Hez Super Too (Imp NZ)

AUST CH Boxberry A Star Is Born DOM

RUBIS AUST CH. Kirkgate Fire N Ice (HTO)

BIS & RUBIS GRD CH Belvurn Too Hot T'Handle (Imp UK)

Kamazam Fields Of Gold

Steynmere Had To Be You (Imp UK)

Steynmere Just Is

ENG CH Surfstone Hot Property JW

ENG CH Steynmere Just So

Milton Miss Of Steynmere

Steynmere Ifya Will

Sulez Hot Gossip