Presents
" Tori "
Kriscross Te Adore Isabella (AI)
Sire: Marc del Bencidall (Imp Spain to USA) Dam: Happy de La Finca Sapho (Imp Spain)
Whelped: 23.1.2012
Health Test Info Below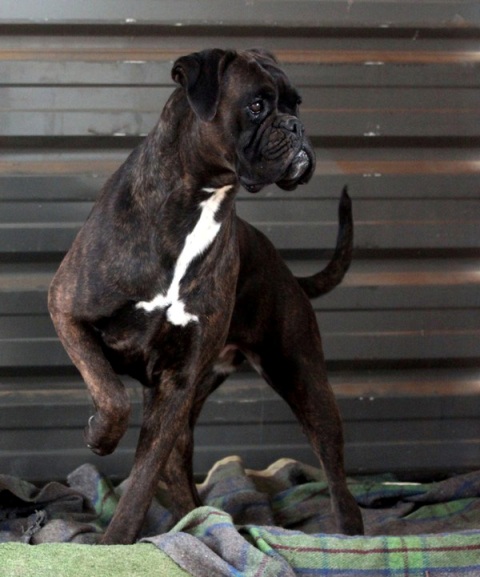 This beautiful girl has come from our first full European Breeding at Kriscross.
She is from our very special girl "Happy de La Finca Sapho (Imp Spain) to the beautiful "Marc del Benicadell (Imp Spain to USA) residing at Shattenboxen Boxers in the USA.
This combination combines two Health Tested Parents which now has
" Tori " by parentage Negative to (ARVC) & (DM).
Tori was the only daughter born out of this combination and we are very happy with how she is progressing.
She has a lovely head structure and we hope this will continue as she matures.
She is very intelligent and displays a very fun loving calm attitude.
Very much loved at Kriscross.
Health Tests Results
Heart Tested Ausculation : 0/6
(Specialist - Dr David Davies BSc BVMS (Hons) FACVSc)
(ARVC) Negative by parentage
(DM) Negative by parentage
24hr Holter Test with Full Report:
Dr Carl D Sammarco, BVSc, MRCVS Diplomate ACVIM (Cardiology)
Less then 50 (PVCs)/24hrs is Considered Normal.
Holter Completed with Excellent Results
May 2013
August 2014
September 2016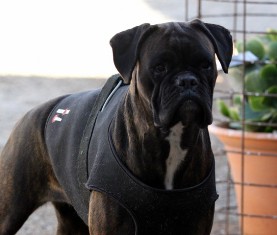 24 hr Holter Test:
Pedigree: " Tori " Kriscross Te Adore Isabella

Parents

GrandParents

GreatGrandParents

G.GreatGrandParents

SIRE

Marc del Benicadell

(Imp Spain to USA)

VDH CH. ATIBOX SGR Future Vom German Dream SchH1

INT CH.

Caos dei Cavaliere del Monferrato SchH1

IT CH.Aaron dei Cavaliere del Monferrato SchH3

IT CH. Fedra del Colle dell'Infinito

VDH ATIBOX CH SGN

Alanta v German Dream SchH1

INT DE FR LX VDH CH. Ibsen vd Sembacher Flur SchH1

GER CH. Tequilla v Hause Rehberg SchH1

Festa del Benicadell

CH.

Caruso di Soragna

SchH1

IT CH. Aaron dei Cavaliere del Monferrato SchH3

Dhora del Nettuno

Quincy del Benicadell

EU ATIBOX, INT CH. Teck del Colle dell'Infinito SchH1

Polly v Klosterbrunnen

DAM

Happy de La Finca Sapho (Imp Spain)

Esteban Van Sapho's Hoeve (Belgium)

Int CH.

Boreas Di Casa Diocletiano (Italy)

Thomas Degli Scrovegni (Italy)
Nepal Degli Scrovegni (Italy)

Crazy Van Sapho's Hoeve (Belgium)

Uram Van Sapho's Hoeve (Belgium)

Vaya's Box Zigyn (Belgium)

Flora de La Finca Sapho (Spain)

Zippo Del Trinitad (Belgium)

CH. Nick Del Nettuno (Italy)
Xarline Del Trinitad (Belgium)

Benita Van Sapho's Hoeve (Belgium)

Lutero De Las Arillas (Spain)
Deni De Onaru (Spain)