Presents
Infanta de La Finca Sapho ( Imp Spain)
Dob: 13.11.2009
Sire: Zippo del Trinitad (Belgium) Dam: Chicci Van Sapho's Hoeve (Belgium)

Health Tests : See below


********************************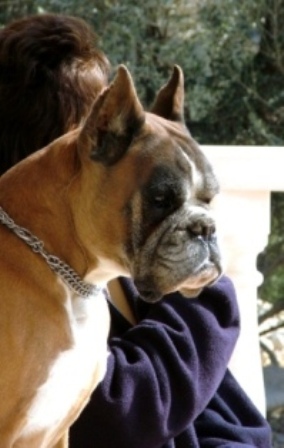 Infanta's Sire : Zippo del Trinitad (Belgium)
Still going strong at De La Finca (Spain) Oct 2011 at 11.5 yrs.
A Magnificent Boxer and excellent reproducer (A proven Sire for the breed)
History :
Infanta was bred at the " De La Finca Sapho Kennel "(Spain) with Johan Sioen & Marriette Poppe. Their dedication to the Boxer breed has been so evident in their breeding over so many generations. We are delighted to announce that we are now the very proud owners of this remarkable well bred girl.
A heartfelt Thank You must go to Johan & Marriette, Ingmar & Vicky.
Infanta was moved to Belgium at 10 wks under the care of Boxer Trainer Ingmar Sioen "Van Sapho's Hoeve ". At 12 wks Infanta started her Quarantine testings for the 6 month process which is required by Australian Quarantine at the "Sapho Kennel"
To Our good friends Ingmar & Vicky we thank you for taking on this lengthy process.
With her impeccable breeding we have no doubt this beautiful little girl will progress in the footsteps of her famous ancestors which can be seen below in her pedigree & extended pedigree.
She is a daughter to Zippo del Trinitad who is the Sire of International Champion 2005 & ATIBOX WORLD Ch. 2006 . Ch Brahms Van Sapho's Hoeve. (This boy I very much love).
On her Dams side she is a Great Granddaughter to ATIBOX WORLD CH 1998, Multi Champion & International Ch. Magnum Di Massumatico. She carries bloodlines from Highly well deserved Multi & International Champions.
We welcomed Infanta home on the 17.9.2010 after completing her quarantine time in Melbourne. It has been a 9 month process to complete all Australian Quarantine requirements and we are so pleased with how our little girl is progressing displaying a excellent calm loving temperament.
We will update this page as Infanta progresses.
Achievements: Entered Puppy Class ATIBOX 2010 World BOXER SHOW - WROCLAW
Handled by Ingmar Sioen
Judge - Wybitnie Obiecujaca - comment: very promising
Health Test Results:
Auscultation : 0/6
(ARVC) Gene Test USA : Negative
DM Gene Tested USA : A/N
Thyroid Normal Range
No allergies present
24hr Holter Tests with Full Report:
Dr Carl D Sammarco, BVSc, MRCVS Diplomate ACVIM (Cardiology)
Less then 50 (PVCs)/24hrs is Considered Normal.
Holter Completed with Excellent Results
Feb 2011
May 2012
May 2013
Sept 2014
October 2016
| | | |
| --- | --- | --- |
| 24hr Holter Testing: | | |
Pedigree: Infanta de La Finca Sapho (Imp Spain)

Parents
GrandParents
GreatGrandParents
G.GreatGrandparents
SIRE

Zippo del Trinitad

Ch.

Nick del Nettuno

International Ch , Spain Ch.

Teck del Colle dell'Infinito

CH. Mirco Vom Turmblick

CH. Fionda del Colle dell'Infinito
Fun van Victoria's Stardust

World CH.Multi CH. Int CH. ATIBOX Sieger 1995.

Tenor De Loermo

Chyrella Van Victorias Stardust
Xarline del Trinitad

World Ch.

Vasko vd Hazenberg

CH. Hiram des Grands Fonds des Abymes
Sara Van de Hazenberg
Rahni del Trinitad
Quiwy del Trinitad
Pearle de Trinitad

DAM

Chicci Van Sapho's Hoeve

Ch. Maiky du Mont de la Renardiere
Igor de la Vallee du Thin
Faust de a Vallee du Thin
Divine de la Vallee du Thin
Jade du Mont de la Renardiere
Eder de la Verte Prairie
Emeraude du Bois Sans Mercy
Perla del Nettuno

World Atibox Ch. & Multi Ch. Int Ch.

Magnum di Massumatico

ATIBOX CH. David del Colle dell'Infinito
CH.Uja di Massumatico
Vurian Van Sapho's Hoeve
CH. Turio Van Sapho's Hoeve
Sherry Van Sapho's Hoeve