We are pleased to Announce the Safe Arrival of 4 Beautiful Puppies.
1st November 2012
Via Frozen Semen AI
"2 x Reverse Brindle Males
1 x Reverse Brindle Female
1 x Red Male
*All puppies from this Litter are Reserved*
Sorry we have No puppies available from this lovely combination.
You can see them in the Puppies Photo Album below.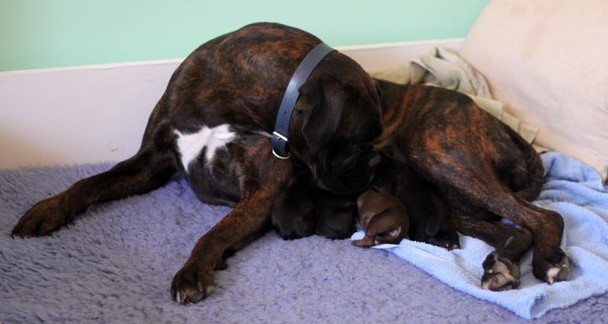 *Calli had the perfect pregnancy & whelping and has settled into motherhood beautifully*
Below in the puppies Album you can follow their progress.
You can view the Sire & Dam and Litter Pedigree Below and there is alot more information on "Our Litter Info Page "
Incorporating strong European lines to further develope our breeding progam.
All puppies have long tails there is No Bobtail lines in this combination.
(Pet home puppies will be placed on the Limited Registration )
Dam: Kriscross Miss Calandria

SIRE: Isacco Di Soragna (Imp Italy)

8 + yrs
" Calli " has matured into a lovely Healthy girl and is from our Spanish Imp. George de la Finca Sapho. She displays a outstanding temperament and is in physical excellent condition. Calli is now 3 yrs and this is her first litter. The Sire chosen has dogs in his pedigree that I have admired for along time. "Zac" was bred at the Famous Soragna Kennel in Italy and made his way to Australia with his family.
Zac is 8 + yrs now and a real gentleman displaying excellent health.
We Thank Mr B Noar for allowing us this priviledge & Jill Clague for your help.
Litter Pedigree
Pedigree : Kriscross Miss Calandria x Isacco Di Soragna (Imp Italy)

Parents
GrandParents
GreatGrandParents
G.GreatGrandparents

SIRE

Isacco Di Soragna

(Imp Italy)

Int CH.

Dismo Di Soragna (Italy)

WORLD CH. Int CH.

Perico Du Val D'Europe (France)

LUX CH. Int CH.

Isben Von Der Sembacher Flur

(Deu)

Olinda Dei Cavalieri Del Monferrato

(Italy)

CH. Livia Di Soragna

Multi CH.

Caos Dei Cavalieri Del Monferrato

(Italy)

Dhora Del Nettuno

(Italy)

Braits FL Of Angel (Italy)

ATIBOX CH. Int CH.

Saverio Di Soragna

(Italy)

EUR CH.

Nick De Ruphete

(Spain)

Celeste Di Soragna

(Italy)

Braits Nastya

(Rus)

Bastian V Grossherzogtum-Hessen

(Deu)

RUS CH.

Benedict IZ Imperii Grez

(Rus)

DAM

Kriscross Miss Calandria

George de La Finca Sapho

(Imp Spain)

Esteban Van Sapho's Hoeve

(Belgium)

Int CH.

Boreas Di Casa Diocletiano

(Italy)

Crazy Van Sapho's Hoeve

(Belgium)

Dempsey Van Sapho's Hoeve

(Belgium)

ATIBOX CH. Int CH.

BRAHMS Van Sapho's Hoeve

(Belgium)

Deni De Onaru

(Spain)

Kriscross Ima Q Tee

Brizegar RusticPrince

NZ GRD CH. GRAND CH.

Valeska Lock Up Ya Daughters

(NZ)

Brizegar Coprice

Riggamo Shez A Beauty

Northridge Lover Boy

Ayamonte Regal Beauty